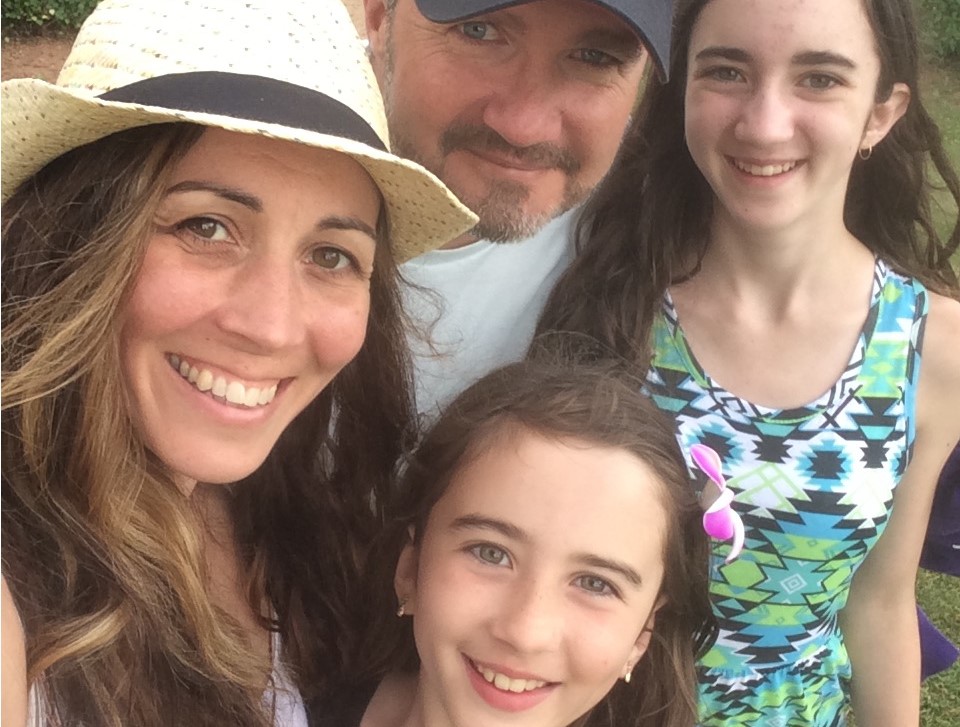 Anyone who lives in Prince Edward Island, or who has visited our lovely province, will likely agree that there's a little bit of magic in the air here. There are some places where I feel more of that Island enchantment than others. One of those is the place where I grew up, on the eastern side of PEI, and one of the many others is the village of Cavendish, right in the centre of PEI, kissing the north shore.
When I was little, our family didn't do very much traveling, but every summer, for about as far back as I can remember, involved a trip to Cavendish.
It was quite a drive from Rollo Bay. Probably about an hour and a half, but it felt like a lot longer when you're a family of five or six, squished in a car with the old-fashioned version of air conditioning, known as rolling down a window.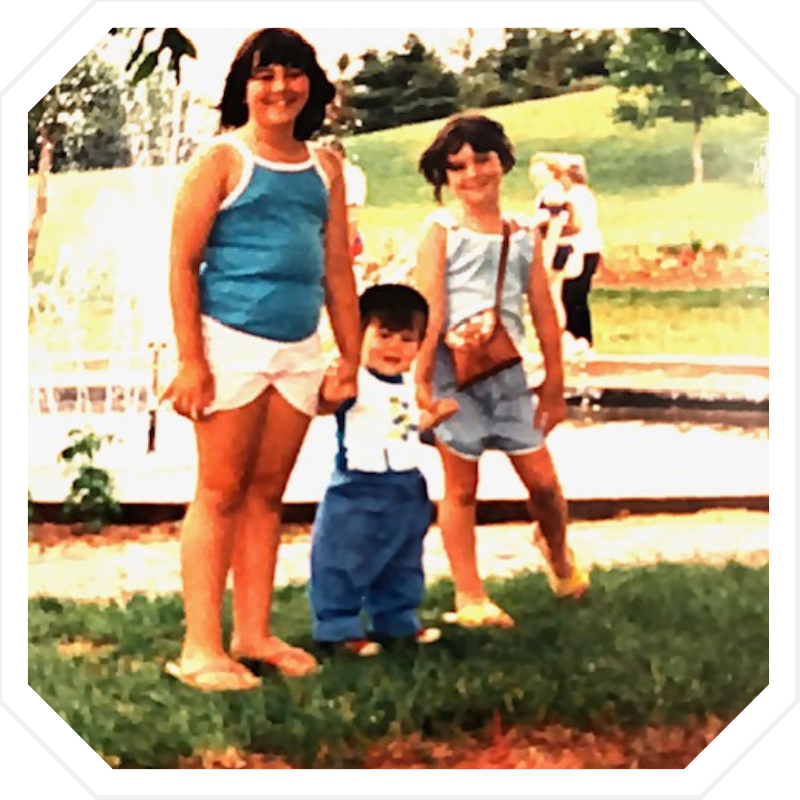 We looked forward to those family getaways. I fondly remember going to Sandspit, Green Gables, the Wax Museum and King Tut's Tomb (no longer there, having been replaced by the Cavendish Beach Adventure Zone).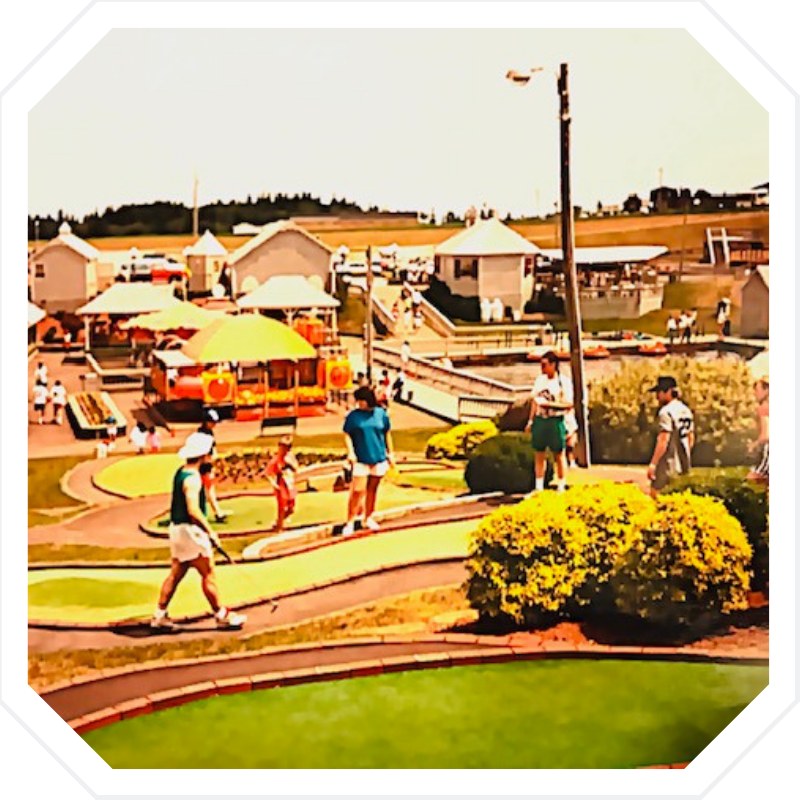 My sister and I would save up our allowance to buy things at the Cavendish Boardwalk. I recall using all of my meagre savings to buy an Anne of Green Gables diary when I was about twelve years old and writing in it every night.
Fond Memories
As cheesy as it sounds, whether we were on the Tilt-a-Whirl at Sandspit (my favourite ride!), walking through the Haunted Woods at Green Gables, or having a picnic near the beach, the best part really was spending time together.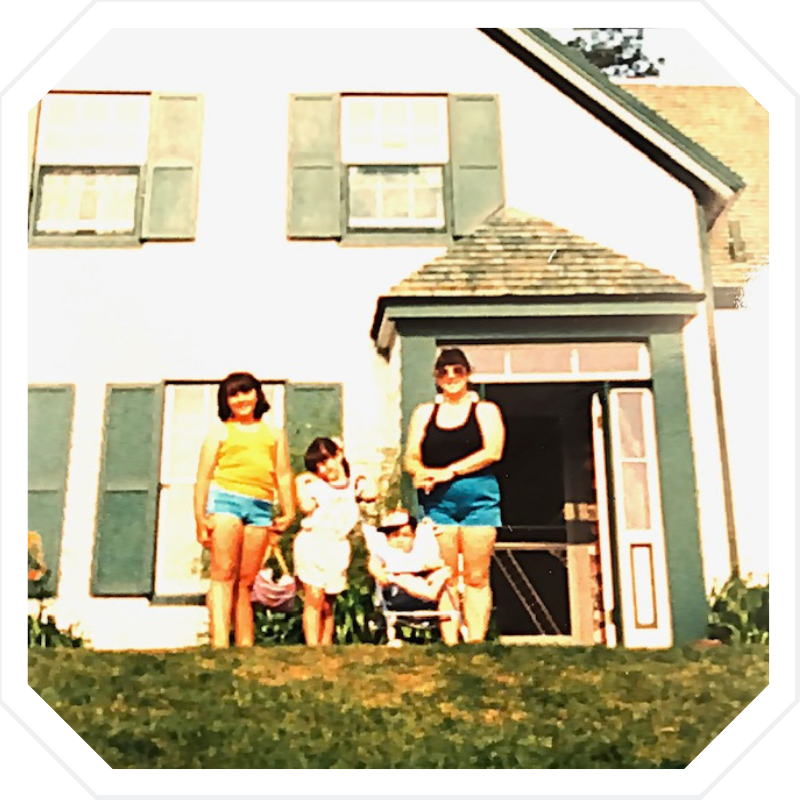 (Except for that one time when our van broke down and we had to hitch a ride all the way back to Rollo Bay with relatives, and our family somehow squeezed into a sedan with three other people. That wasn't the happiest time we had in Cavendish, but it sure was memorable.)
Creating New Memories
When I became a mother, it wasn't long before my husband and I started our own yearly trip to Cavendish with our girls.
When they were very little, we would take them to Shining Waters Family Fun Park and enjoy the more gentle attractions that amusement park has to offer. Then, as they got older, we would add the water slides to the roster. Eventually, Sandspit became more of a draw as the kids grew more adventurous.
We all look forward to spending a few days of downtime each summer in Cavendish, and, somehow, we always manage to find something new to see or do.
Every summer, I dedicate a bit of our Cavendish family vacation time to working on whichever novel I am writing at the time. As an author, I can attest to the fact that there is magic in the air (maybe Lucy Maud left some for the rest of us?). My imagination works on overdrive in this lovely place. There's a lot of imagery in my books that came from our summers in Cavendish.
A Family's Guide to Visiting Cavendish
Because there's so much to see and do in Cavendish, I want to share with you a bit of a guide to navigating the best Cavendish has to offer for families.
Whether you're an Islander who has yet to make Cavendish a staycation destination, or a visitor on vacation from another part of the world, I hope this Family's Guide to Visiting Cavendish for families will help you have the best stay ever.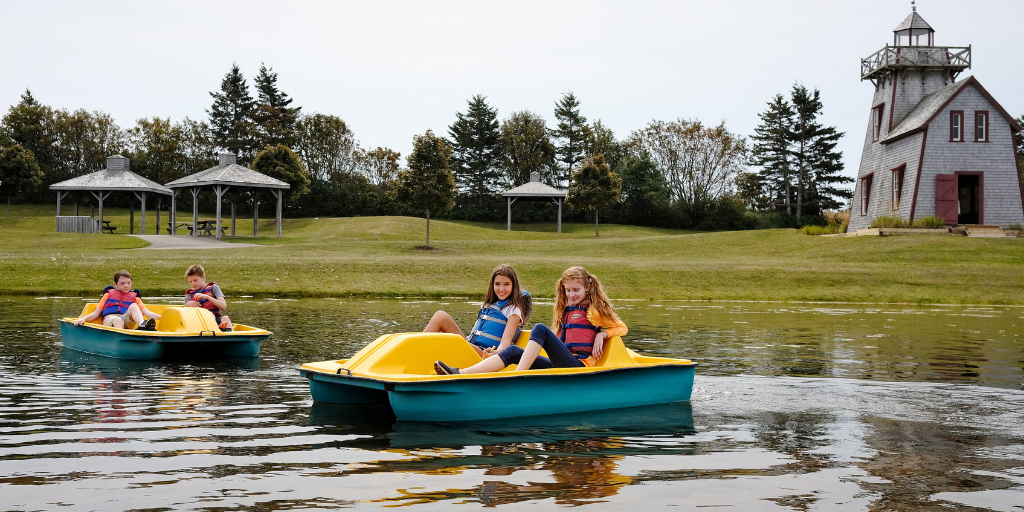 Where to Stay in Cavendish, PEI
Our personal accommodation of choice is Cavendish Maples Cottages (we stay there every year!), but I have not stayed in any other local cottage or motel since perhaps 1987. However, I do know that there are many, many options for families, to suit any budget. There are many inns, B&Bs, motels, cottages, and campgrounds to choose from.
For accommodation listings, check the Tourism Cavendish Beach website.
Where to Eat and Shop in Cavendish, PEI
Avonlea Village
I love to cook, and when we go on our yearly vacation, I always pack our own groceries, but we do like to go out for a couple of meals because Mom needs a break sometimes. I love Avonlea Village for many reasons, but mostly because of the number of dining options there, from pizza and lobster rolls to grilled cheese (our kids' favourite) and ice cream. Last summer, we all ordered at a different place and ate together at a picnic table. There are great shops here where you can buy locally made items and items you won't find anywhere else.
Cavendish Boardwalk
There are some food options here, and lots of little shops where you can find jewelry, souvenirs, flip flops, Cow's merchandise, and more.
Mariner's Cove Boardwalk
Mariner's Cove Boardwalk seems to be growing more and more every year! There's a Greco restaurant here which delivers pizza and donairs right to your campsite or hotel room (yup!). For burgers and other family fare, there's The Ship's Company Pub & Galley. For a treat, try Chillz Dairy Bar or a BeaverTail! There are shops here, as well, where you can buy PEI shirts and more. In addition to food and shopping, there are lots of activities here, too (see Where to Play, below).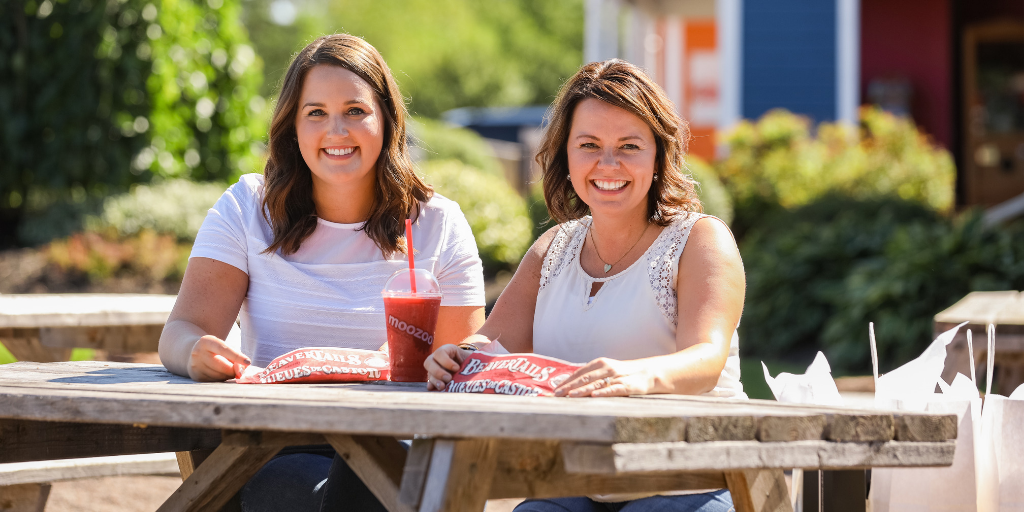 What to See in Cavendish, PEI
Green Gables Heritage Place
Green Gables Heritage Place is a fairly popular destination in Cavendish. It's located in the Prince Edward Island National Park. Take the opportunity to walk through the Green Gables House. You can see how Islanders lived in the days of Anne and her creator, Lucy Maud Montgomery.
(Note to parents: this is the type of attraction with velvet ropes and a lot of "no touching," so perhaps plan accordingly, depending on the age of your kids.)
Walking Trails
Also in the Prince Edward Island National Park, at the Green Gables site, there are beautiful trails through the woods, where one can imagine Ms. Montgomery took many an inspired walk. I believe Lover's Lane and the Haunted Woods are equally as charming.
Family Attractions
For families with kids in the "tween" age range, there are lots of fun things to see and do in Cavendish, like Wax World of the Stars and Ripley's Believe it or Not! Odditorium.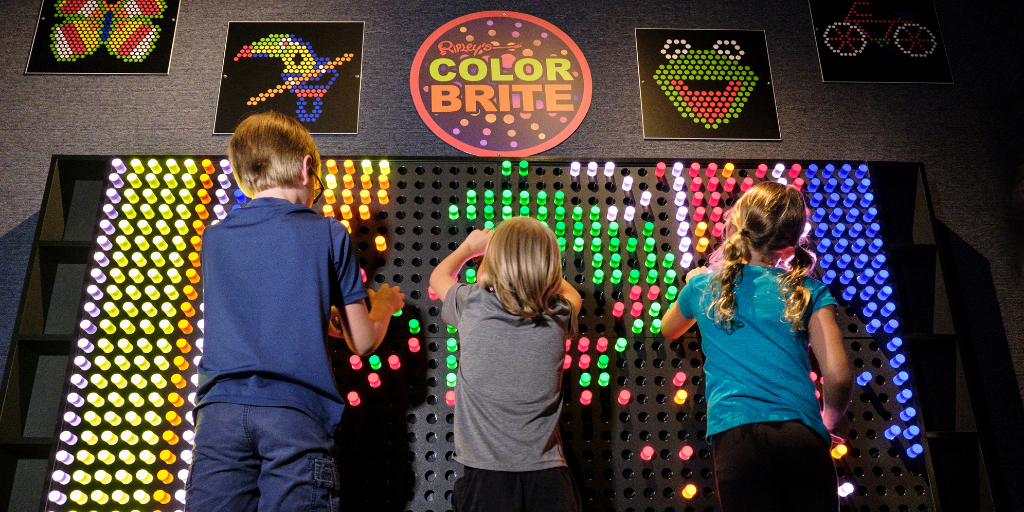 Not far from Cavendish is the Prince Edward Island Preserve Company, and it is one of our very favourite places. You can find a big selection of Island-made food products, but there's also a charming butterfly house where you can get up-close-and-personal with beautiful, colourful butterflies.
And there are the gorgeous Gardens of Hope. (I held one of my book launches there, I love it so much!)
And if you're going to the Preserve Company, be sure to swing by the nearby owner-operated Toy Factory where your children will LOVE to explore every single thing in the store. It sort of feels like Santa's workshop in there.
For another option for families, Jurassic Bart's Dinosaur Museum and Petting Farm have lots of things for budding paleontologists to explore. Goats and dinosaurs… what could be better?
Blissful Beach
There is so much beauty in the area that you could just fill your days looking at the scenery if you really wanted to. Speaking of the scenery, I recommend making a point of visiting Cavendish Beach. The dune system is something to see, and the beach is (like all PEI beaches, really) bliss.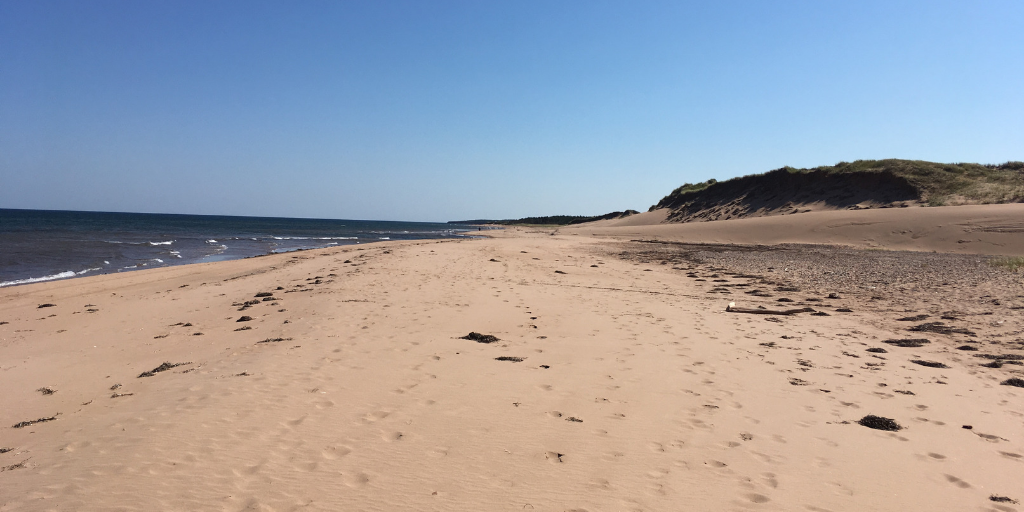 Where to Play in Cavendish, PEI
Cavendish Beach Adventure Zone
The Cavendish Beach Adventure Zone has lots to offer families of bigger kids, and it's great for rainy day fun. In one single location, there's a haunted house, laser tag  and mini golf (Try not to get eaten by the giant lobster!). Fun fact: Our laser tag arena is the only one on PEI!
Miniature Golf
If mini golf is your thing, there's also a black light indoor mini golf course,  and Mariner's Cove Miniature Golf is a real blast.
Sandspit
Sandspit Amusement Park is all about the rides. There's a Ferris wheel, roller coaster, bumper boats, and other things suitable for littler kids, too. And there are carnival type games, so bring change! (If your kids are older, check this place out after dark. It is SO much fun under all the lights!)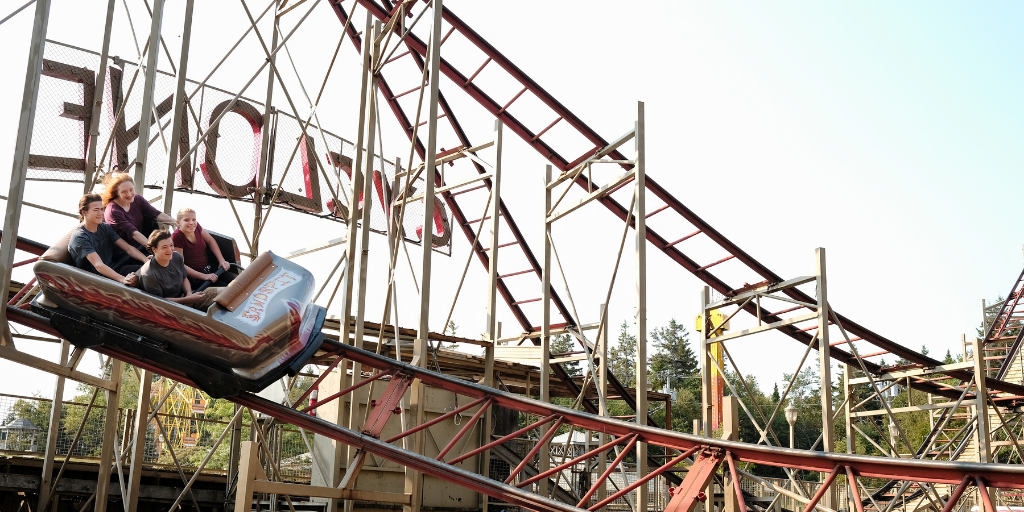 Mariner's Cove Mining Company
Mariner's Cove has a mining activity for kids where they have the chance to "pan" for treasures!
Paintball and Escape Rooms
For older kids, and something a bit different, check out Crossfire Adventure Paintball at Mariner's Cove Boardwalk! Or Room Escape Cavendish. You have to work as a team to solve the clues and puzzles and escape in an hour or less.
Shining Waters Family Fun Park
Shining Waters Family Fun Park is a wonderful place to play with your family. You will definitely want to make a day of it. So pack some snacks, drinks, bathing suits, and towels (don't forget the sunscreen!). Make a plan to stay from open 'til close! Little kids have lots of fun rides and attractions to explore. Bigger kids can try the more adventurous rides! They can swim in the pool, and explore all the slides at the water park! There's a large picnic area for you to stop for lunch, though there is food available for sale onsite. If you buy a bracelet, you can come and go from the property as you please, all day long!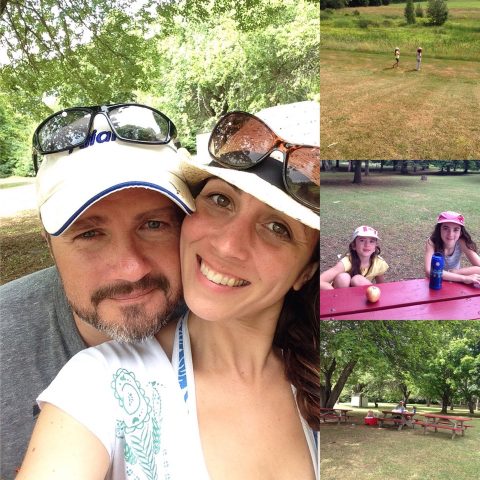 Things to do: Random Parent Tips
Before you decide to come and find a place to stay on a whim, check ahead! Accommodations book up WAY ahead of the summer. There are lots of places to stay, but you don't want to be left disappointed!
There are many picnic spots in Cavendish, so you really can save some money by packing your food. Many families around Cavendish tote around coolers, so you won't stand out. Coolers on wheels are also convenient for hauling children on, too.
Take lots of photos so you'll have them to cherish forever, like the ones my mother took. Ha ha
I hope you find these tips helpful on your family's next visit to Cavendish. Have fun!
Keep Reading the Family Fun Blog!
Five Must-Try Snacks in Cavendish
Relaxing Things to Do in Cavendish Beach
Top Tips for Spending the Day at the Water Park
Rainy Day Activities in Cavendish, PEI
What's Included in a Sandspit Bracelet
How to Host Your Own Mini Golf Tournament for your Family