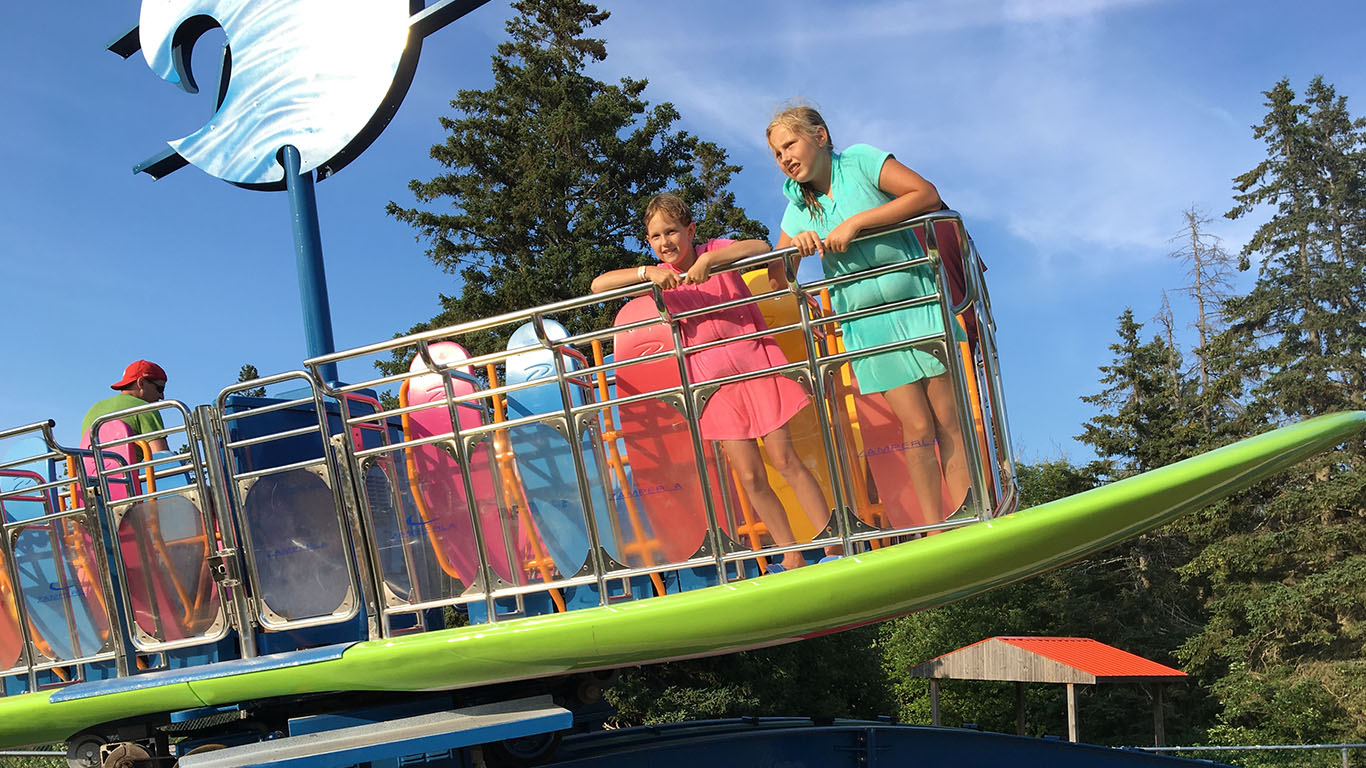 Shining Waters Family Fun Park in Cavendish is adding another ride to the park for the summer of 2018.
The ride is called Surf's Up, and welcomes riders to stand on a giant surfboard, as the surfboard spins around and around, all while riding the wave-like track. The ride was built to cater to tweens, but it should be a hit for riders of all ages.
The new ride was purchased from Fun Spot in Kissimmee, Florida in April, 2017.
Continuing to Grow
"When we found out about the opportunity to add a new ride to the park, we jumped on it," says Matthew Jelley, President of Maritime Fun Group, who operates the park. "We are excited to offer a new experience to our visiting families this summer."
In addition to the new ride, projects at Shining Waters will see an expanded front entrance and an additional food outlet to improve guest services within the park.
"Since we've opened 12 years ago, we have continued to expand on a regular basis," continues Jelley. "New rides are a huge investment, but we are committed to expanding our offering and continuing to listen to our customers."
The last ride Shining Waters added was the Buccaneer Bay Bullet, purchased when Crystal Palace closed in Moncton, New Brunswick. The 1200-foot roller coaster was the largest addition to the park since it opened.
Surf's Up is made by Zamperla, a manufacturer of amusement park rides worldwide, and whose customer list includes Disney, Universal Studios, Six Flags, and Paramount. The Crazy Submarine ride installed at the park in 2015 is also manufactured by Zamperla.
About Maritime Fun Group
Maritime Fun Group in Cavendish, PEI is the proud operator of Shining Waters Family Fun Park. Family owned and operated, Maritime Fun Group manages 14 attractions across Prince Edward Island and New Brunswick, including Sandspit, Shining Waters Family Fun Park and Magic Mountain.

For more information, contact:
Jessica Caseley
Maritime Fun Group
902-963-3939 x 258
jessica@maritimefun.com
-30-
More 
Take a look at some of Zamperla's other rides from around the world!
Read about Sandspit's Cyclone and Shining Waters' Buccaneer Bay Bullet here.