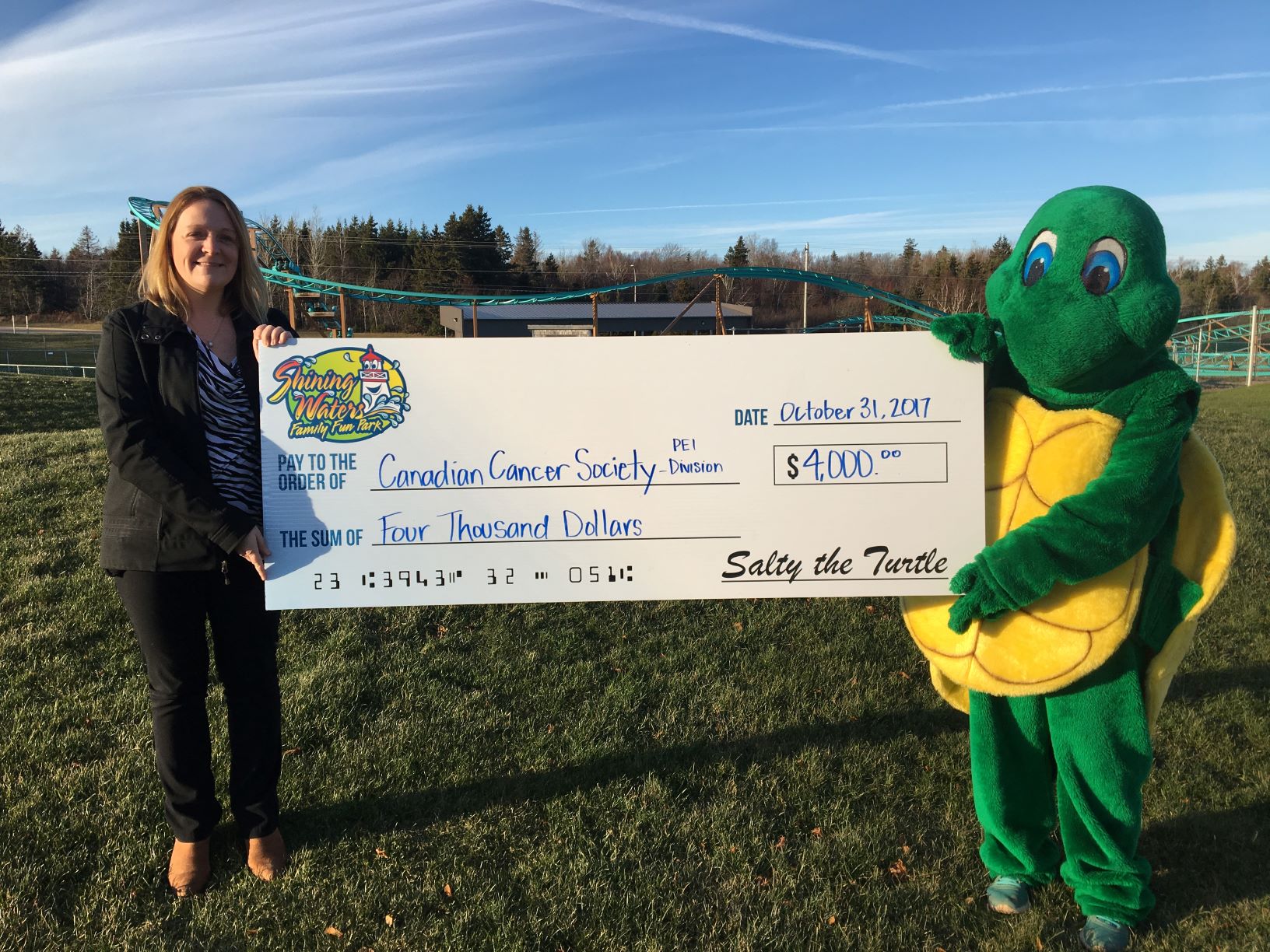 While the weather is anything but warm and sunny, today the Canadian Cancer Society announced that it had received a $4,000 donation from Shining Waters Family Fun Park in Cavendish directed towards educating Islanders about sun safety and skin cancer risk.
These funds were raised via a cause marketing campaign. In June, Shining Waters held a Fun for the Cure Early Bird Sale through which discounted tickets were sold. Additional funds were also generated through the park's Used Towel Program.
"We are thankful for the support of Shining Waters Family Fun Park in helping us take action against skin cancer," says Jayna Stokes, support services specialist for the Canadian Cancer Society in PEI. "UV radiation from the sun causes about 90% of melanoma skin cancer cases. This support couldn't have come at a better time as diagnosis rates for this type of cancer have increased in the last 25 years. Skin cancer is the most common type of cancer, and it's also one of the most preventable."
Taking Action
Beyond awareness, the Canadian Cancer Society is taking action against skin cancer by:
• Funding high-quality cancer research
• Providing information and support services to those living with skin cancer, ensuring that no one is alone in their journey
• Educating people about sun safety and skin cancer risks – This summer, roughly 4,000 Islanders were provided with this information through presentations and outreach activities at parks and community events
"We were pleased to partner with the Canadian Cancer Society," says Matthew Jelley, President of Maritime Fun Group, who operates Shining Waters. "Our Fun for the Cure Early Bird Sale went so well this year, we more than doubled our last year's contribution."
About the Canadian Cancer Society
The Canadian Cancer Society is a national, community-based organization of volunteers. Their mission is to eradicate cancer and enhance the quality of life of people living with cancer. Thanks to our donors and volunteers, the Society has the most impact, against the most cancers, in the most communities in Canada. For more information, visit cancer.ca or call our toll-free bilingual Cancer Information Service at 1-888-939-3333 (TTY 1-866-786-3934).
– 30 –
For more information contact:
Jayna Stokes, 902-566-4007 ext. 2239, jstokes@pei.cancer.ca
Media release
More Information
Learn about MFG Gives Back to find out about our other community initiatives.
To learn more about sun safety, skin cancer and/or services available to those living with the disease, please call 1-888-939-3333 or visit cancer.ca/sunsafety.