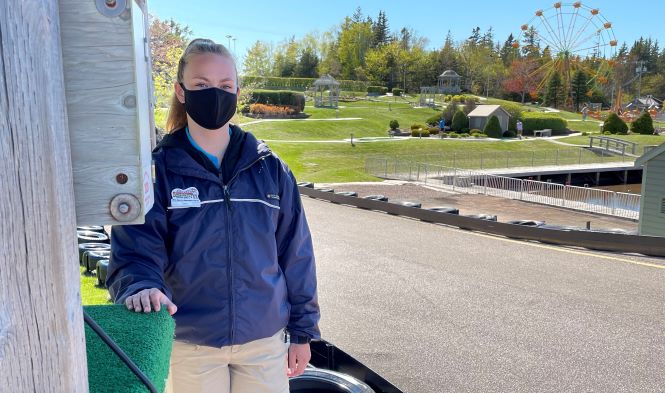 Maritime Fun Group is hiring for the 2022 season! We are looking for full time and part time seasonal employees to join our team in Cavendish. Maritime Fun Group operates a wide variety of attractions and food service locations, so we have a summer job for just about anyone – as long as they have a great attitude and love to smile.
You could be helping a child build a teddy bear at Teddy Bear Village, operating the roller coaster at Sandspit, making pastries at BeaverTails Pastry, slinging espresso at Seaside Cafe, and more.
One of our key roles is a Senior Ride Operator at Shining Waters Family Fun Park and Sandspit. Our Senior Ride Operators operate the biggest rides in the park, like the Ferris Wheel or a roller coaster. We'll train you on as many rides as possible, so your day will always be interesting. The starting wage for a Senior Ride Operator in their first year is $15.00. For their second and third season, the rate is $15.50 and $16.00 respectively.
Another key position is a Lifeguard at Shining Waters. Lifeguards require up to date NLS certification, Standard First Aid and CPR/AED Level C. Lifeguards must pay close attention to guests of all ages, enforce rules and policies, and perform First Aid when required. The starting wage for a lifeguard is $15.00. For their second and third season, the rate is $15.50 and $16.00 respectively.
We are also hiring Food & Retail Attendants, Slide Operators, Junior Ride Operators, and Cleaners.
We have also increased our benefits!
New for 2022, you will receive unlimited entries for you and one guest to all Maritime Fun Group attractions (excluding The Hangar Laser Tag Arena).
A 50% discount on all food purchases while on break
New for 2022, a 25% discount on all Maritime Fun Group-operated food locations while off-duty
New for 2022, earn either $200 or $400 with our expanded Back to School Bonus
Relax with staff events and parties during the summer with great prizes
Check out our Job Listings, read through our FAQ, and apply online!