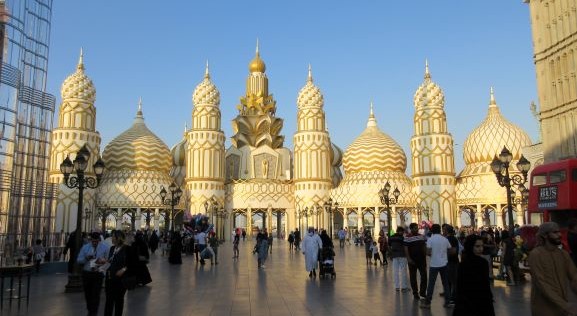 The Industry Association for Amusement Parks and Attractions (IAAPA) hosted the ninth annual Leadership Conference in Dubai, UAE February 26 – 28, 2019. The event included insightful presentations, networking opportunities and exclusive tours of attractions. Some of these attractions included the Louvre Abu Dhabi, Ferrari World Abu Dhabi, and Expo 2020 Dubai.
The opportunity to tour other attractions and waterparks across the globe is valuable learning for the MFG team. Two of the MFG head office crew, Matthew and Adam, made the trek across the world to the conference.
Day One
The first day focused on Expo 2020, the first World Expo ever hosted in the Middle East, and expected to attract 25 million visits during the expo. Later on in the day, the group toured the Expo 2020 Dubai location.
The rest of the first day was a tour of the IMG Worlds of Adventure, an indoor amusement park with brands like Marvel and Cartoon Network theming their activity zones.
That night was Global Village Dubai, which brings together 90 cultures in one location. It claims to be the world's largest tourism, shopping and entertainment project.
Day Two
Day Two was a visit to the Louvre Abu Dhabi, then on to Ferrari World, where they rode the Formula Rossa, the worlds fastest rollercoaster with a speed of zero to 240 km/h in 4.9 seconds and  heights of 52 metres.
That afternoon was a trip to the Warner Brothers World Abu Dhabi.
Day Three
On the final day, was a visit to the Dubai Parks and Resorts, with the DreamWorks theme park.
Then that night was a networking session at Laguna Waterpark, located at the beachfront destination of La Mer, where they toured the "shabby beach" themed park.
The trip ended with a presentation, tour, reception and show at La Perle a stunning theatre with 270-degree seating in an aqua theatre. Yes, an aqua theatre: the stage floods with water and drains in a matter of seconds. All this while acrobatic artists continue to dazzle.
The trip to the other side of the world was both education and fun. It was well worth the eight hour time difference, and the fourteen hour flights!
Read More
Whats New With Maritime Fun Group?