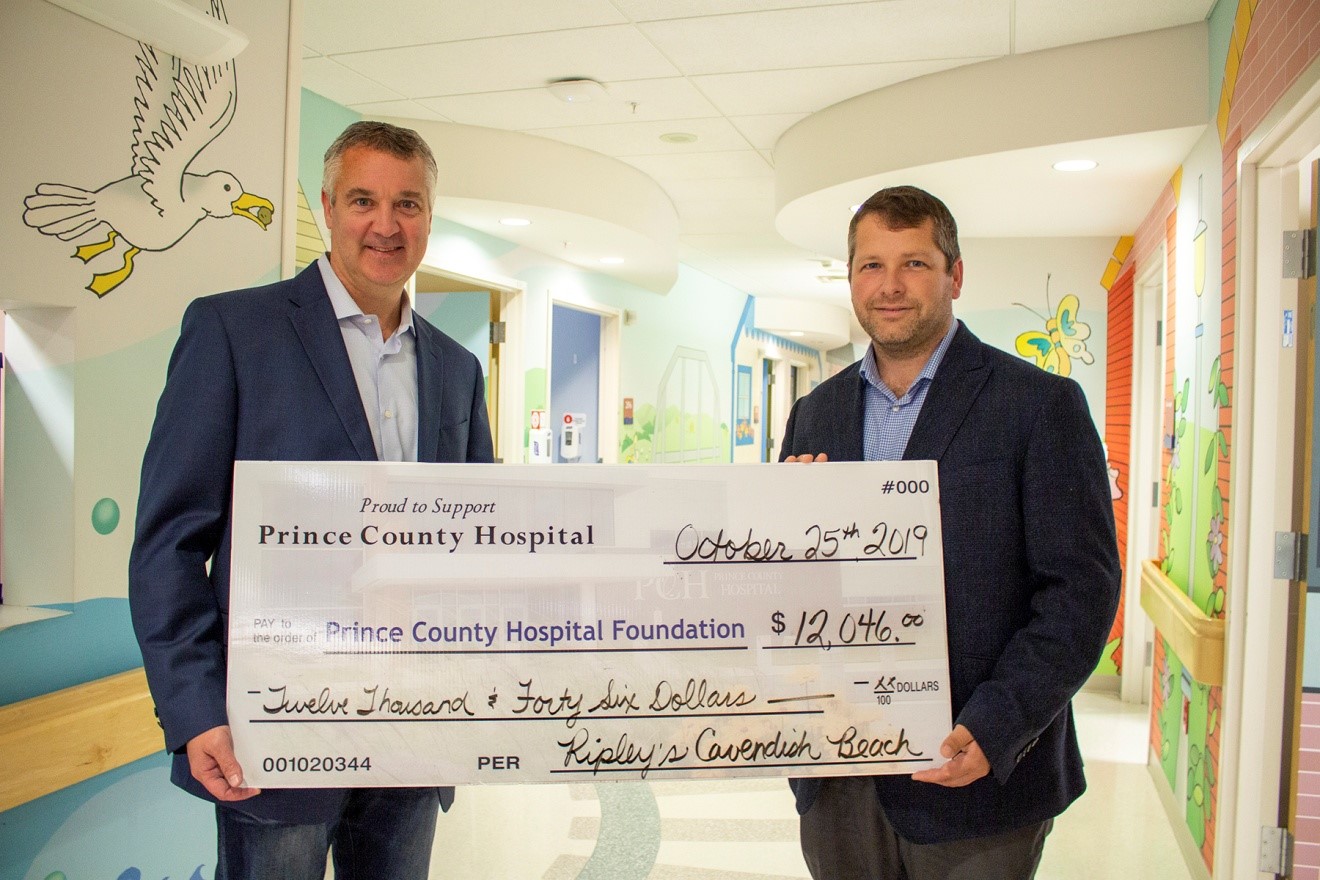 Summerside, PE   Ripley's legendary Fertility Statues were on a world tour, stopping at Ripley's Believe It or Not! in Cavendish for the month of July. (The statues were carved by the Baule tribe from the Ivory Coast in Africa. According to the tribe's legend, the statues are placed on either side of a doorway leading to a bedroom, and if a woman touches either statue on their way into the room, they will soon conceive.) To celebrate the occasion, Ripley's collected one dollar from every admission sold in July to help purchase medical equipment for the Prince County Hospital's Maternal Child Care Unit.
Matthew Jelley, president of Maritime Fun Group –PEI, owners of Ripley's Cavendish recently visited PCH to deliver the gift of $12,046. On average 450-500 babies are born each year at the Prince County Hospital to parents from all over PEI. From infant warmers to cardiac monitors, the medical equipment needs vary annually in Maternal Child Care, but every year the hospital's patients rely upon community support to keep this unit fully equipped. Mr. Jelley is joined by PCH Foundation board member Paul Power, left, who accepted the gift in Maternal Child care on the Foundation's behalf.
"We had a lot of fun hosting the statues on their world tour, and we wanted the visit to have a lasting impact on our community," says Matthew Jelley, president of Maritime Fun Group, the company that operates Ripley's in Cavendish. "Donating a part of the proceeds of each visit to the PCH Maternal Child Care Unit was a good fit."
The PCH Foundation is currently sitting at 60% of the $2.2 million with over $ 880,000 left to raise before the end of 2019. Those looking to follow in the footsteps of this most generous gift and support the patients at PCH, can make a contribution at pchcare.com or visit the Foundation office in the PCH lobby.
Every dollar counts.
About PCH Foundation
Prince County Hospital Foundation is a registered charitable organization that strives to raise the funds necessary to provide the Prince County Hospital's greatest medical equipment needs.
Media Contact
Bevan Woodacre, Communications Officer, 902.432.2547, bdwoodacre@ihis.org , pchcare.com