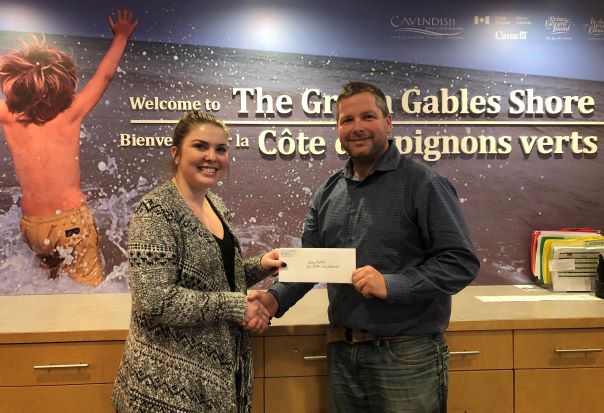 Tourism Cavendish Beach awarded the Matthew Jelley Business and Tourism Scholarship to Janaya MacNeill recently.
The scholarship of $1000 is available to PEI students enrolled in a tourism or business-related discipline. The objective of the business and tourism scholarship is to encourage increased professionalism in Prince Edward Island's tourism industry.
Janaya graduated from Bluefield High School in 2018, and is currently in her first year of university.
"I live on a local dairy farm known as Parkview Tourist Home and Cottages; ambassadors to the tourist industry in Cavendish for over 60 years," Janaya wrote in her essay. "I have been coached by the best."
Steve Murphy, President of Tourism Cavendish Beach, congratulated Janaya on the scholarship. "We are very pleased to present this scholarship to Ms. MacNeill. She got her start in the tourism industry early, and we are sure she will continue working to help grow the industry in the future."
The Matthew Jelley Business and Tourism Scholarship was set up in 2013 in recognition of Matthew Jelley and his dedicated service to Cavendish, Beaches & the Dune Shores Tourism Association, now Tourism Cavendish Beach. Matthew Jelley has dedicated himself to his entrepreneurial pursuits in Cavendish and at the same time has spent years volunteering to help build a stronger tourism product on PEI.
Next application deadline is March 23, 2020. For information on how to apply, visit Tourism Cavendish Beach Scholarship.
For more information, contact:
Darcy Butler, Destination Manager
Tourism Cavendish Beach
902-963-2078
Darcy@cavendishbeachpei.com