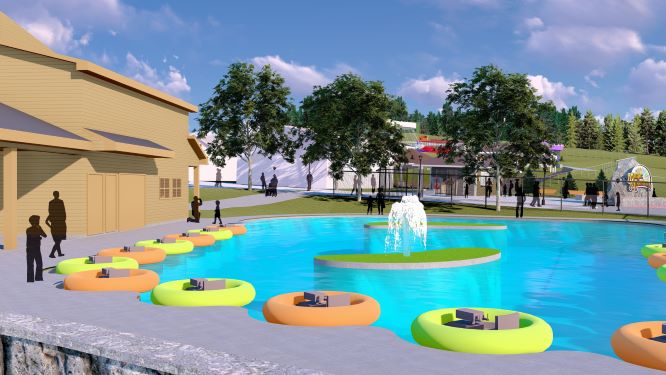 Magic Mountain is excited to announce a new development for its GolfZone area. This full renovation will replace the previous courses with four new 9-hole courses and will also allow the addition of Bumper Boats – an entirely new attraction that will be part of the FunZone bracelet package.
The new Bumper Boat attraction will feature battery powered boats that allow a much quieter and cleaner guest experience. Because they are emissions-free, the water can be maintained just like a swimming pool and each boat will include a built-in squirter to allow interactive play. As with all FunZone attractions, Bumper Boats can be enjoyed as part of the FunZone bracelet package or on a pay-per-ride basis. According to General Manager John Jelley, "Bumper Boats have been a missing piece of our FunZone ride package and we expect them to be a real game-changer. They will give an exciting new option for older children and adults."
The new golf courses have been professionally designed by Adventure Golf Services, a firm with over 30 years of experience designing courses all over the world. Each 9-hole course can be purchased individually or as part of a package including all courses. The 4Zone bracelet package will still include mini golf and allow each guest to choose one 9-hole course to play. Jelley explains, "Our guests have been looking for more flexibility and variety. By having four courses, we allow guests to experience four different but complementary themes. At the same time, each course is less of a time commitment so if it is hard to keep your kids engaged for a full 18-hole round, this format allows you to do a course, go back into the SplashZone or FunZone, and then do another 9-holes later. Finally, it should help with lineups on busy days as we will now have four starting points instead of two."
The entire area will have a mining/ghost town theme with a large shaded seating area, an interactive electronic shooting gallery with highly themed animatronic targets, and mining sluice so you can pan for your own fossils and gemstones. This project has been in the planning stages for several years and has required the expertise of several local firms including Viridis Design Studio, Northland Design Studio, and Fisher Engineering. The area is slated for completion in early-mid July 2020. Jelley adds, "We have had tremendous support from our local market as well as visitors to Moncton. We are thankful for all that visit each year and are excited to be able to invest again in expanding our product for them!"
About:
Magic Mountain is a family owned and operated local business that has been part of the Moncton landscape for over 30 years. During the summer season, it employs over 200 people and is a key tourist destination as part of Moncton's Magnetic Hill Park.
Magic Mountain has something for every member of the family! Experience our 4Zones of family fun featuring SplashZone, Atlantic Canada's largest waterpark. For all your high flying and thrill seeking needs, try the rides in FunZone. Play to win prizes or just to have fun with family and friends in TekZone. See who holds the title of best miniature golfer in GolfZone. Season passes and day passes are popular Christmas gifts and will be available in early December online at www.magicmountain.ca.