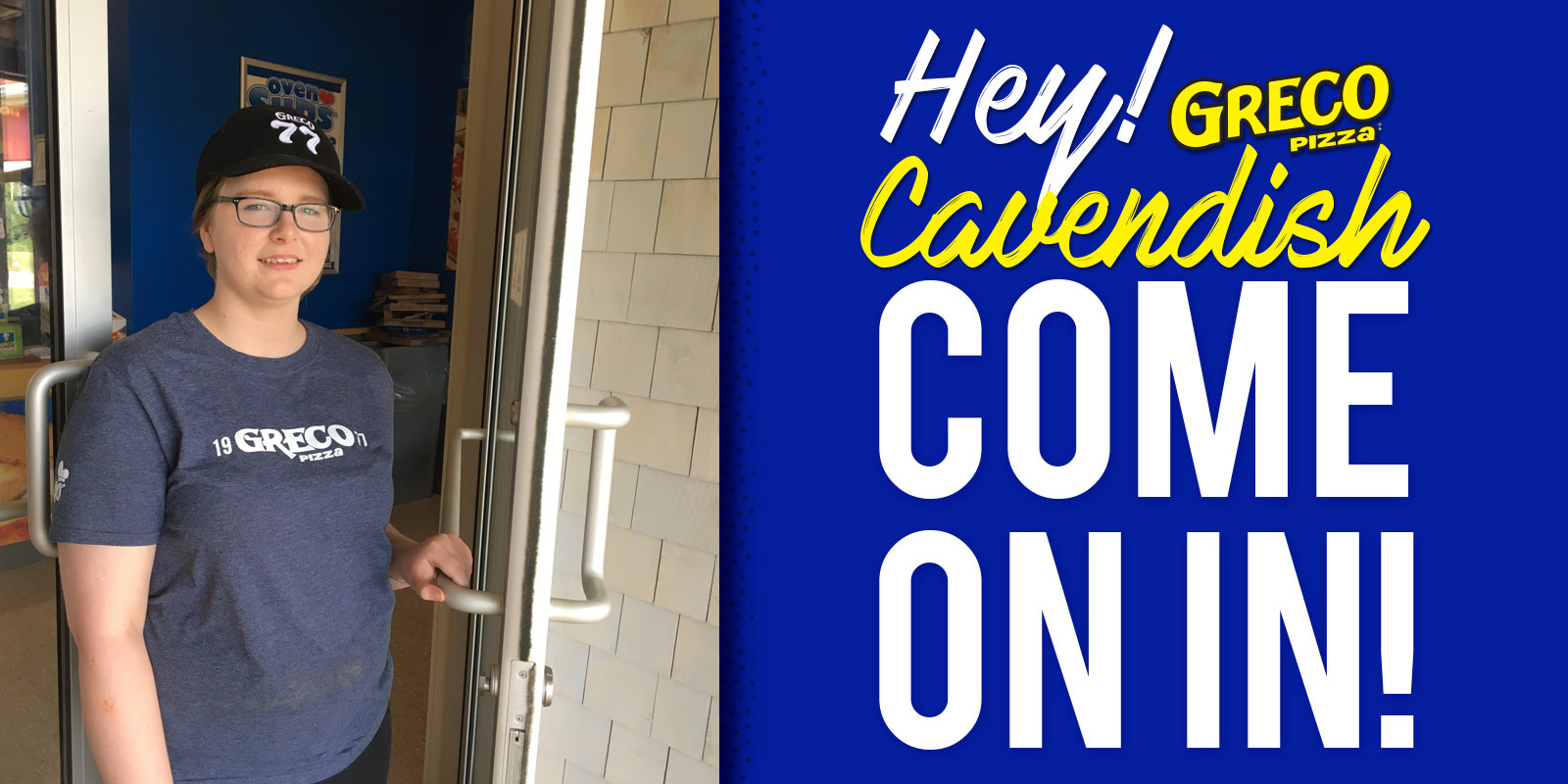 Greco Pizza, who celebrated their 40th Anniversary last year, is Atlantic Canada's 1st choice for Donairs. Greco is proud to welcome a new franchisee, Matthew Jelley.
"One of the reasons we chose to open a Greco Pizza at the Mariner's Cove Boardwalk is the exclusive menu items that are not available at any other pizza restaurant" says Matthew Jelley, new owner of Cavendish Greco. The new Greco location will be at Mariner's Cove Boardwalk, a popular destination with family attractions that recently underwent an expansion in 2018, adding new vendors and expanding space for others.
"Growing up, getting pizza from Greco was a family tradition as well as a Friday night staple," says Matthew, new owner of Greco Pizza, Cavendish. "Born and raised in Summerside, I spent many summers in Cavendish camping and working in the tourism industry with my family and I haven't looked back ever since."
The new Greco location will also offer a delivery option, making ordering even more convenient for residents and tourists in the area. Delivery will go as far west as Stanley Bridge, and east to Rustico and New Glasgow.
Great Menu Items
In addition to their also famous Pan Pizza and Garlic Fingers, Greco Pizza is home of the FREE Flavoured Crust. There are popular flavours are added to every pizza at no charge to customers. Some of these flavours include; Garlic Parmesan and Butter Cheese. Flavours are sprinkled to the outer edge of your pizza. They add a delicious hit of flavor to what some would say is the most boring part of a pizza.
"Cavendish is a beautiful destination with many tourists passing through during the summer months. With a diverse menu, Greco Pizza is able to meet the dining needs of locals and tourists alike," says Don Moore, Executive Vice President of Grinner's Food Systems Limited, Franchisor of Greco Pizza.
Order Any Way
Customers can go online and place an order on Greco's newly redesigned website or order through the free Greco Pizza mobile app, available at Google Play and the Apple store. Greco will also be able to take orders in store, or by phone. To be connected to a nearby Greco, Customers can call Greco's highly recognizable 310-30-30.
Greco Pizza is famous for their donairs. Their donair meat, is prepared in a federally inspected meat plant located in Moncton, NB. The meat in a Greco Pizza donair is made with 100% beef (NO LAMB). It is still seasoned with the same old world flavors used in their first location almost 40 years ago.
A Proud Franchisor
Grinner's Food Systems Limited, based out of Truro, Nova Scotia, is one of the largest franchising systems in Atlantic Canada. They have over 150 of their restaurant brands operating in the Atlantic Provinces. Grinner's, a division of Trucorp Investments Incorporated, is one of Canada's 50 Best Managed Companies.
For more information and further details please visit:
Website: www.greco.ca
Facebook: www.facebook.com/grecoville
Twitter: twitter.com/greco_pizza
Want to know What's New with Maritime Fun Group?