About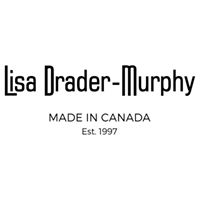 Canadian designer Lisa Drader-Murphy is the president and sole owner of the Lisa Drader-Murphy umbrella, producing the Turbine and LDM labels, Hollywood & Luminaries Editor (International) for Story of Fashion Magazine, National Style & Celebrity Columnist for ReFINEd Magazine, and a sought-after professional public speaker. A Progress Club Women of Excellence award-winner in the category of innovator/entrepreneur, Drader-Murphy is one of five women to be recognized by Atlantic Business Magazine's Top 50 CEO Awards in 2016.
After graduating in 1990 from Form & Function Design Academy in Calgary at the top of her class, Lisa went on to design numerous products for a variety of sectors, including performance clothing, ladies ready-to-wear, active wear, and children's clothing and has contributed to the ward-robing for a number of film and television productions. Lisa has held positions as Head of Design and Director of Design & Product Development for major Canadian manufacturers of Technical apparel and has consulted extensively as an independent specialist in the design of technical industrial performance clothing.
Her first independent label, Turbine, was established in January of 1997 after designer Lisa Drader-Murphy discovered a stock of high-end vintage tailoring wool in the warehouse of an employer. After months of designing, pattern development, and production the first Turbine: Power Clothes for Women store was opened in downtown Calgary 's trendy Inglewood neighbourhood. A second store opened shortly after at The Eau Claire Market on Prince's Island Park. In 1998, with a 3rd store slated for Banff, an opportunity presented itself to designer/owner Lisa Drader-Murphy to move her young family to beautiful Nova Scotia and the temptation to enjoy a slower pace and family-friendly lifestyle was too great to resist.
Her corporation is a vertical operation where Lisa Drader-Murphy, as owner and designer, is hands on in every aspect of the business. Her company is unique in that it is one of few remaining in Canada that houses the design, cutting, production, and retail of her collections - all from her privately run production and retail facilities, having produced hundreds of thousands of pieces in this manner. Notably, Lisa has grown her business to 5 posh retail locations and a Mobile Boutique, debt-free, on retained earnings.
When Lisa moved the business to Canada's East Coast in 1999, she maintained its cosmopolitan aesthetic, continuing to appear on runways, contribute to fashion shoots, and keep Turbine in the media spotlight. Since establishing Turbine in 1997, her business has garnered national and international buzz, with coverage including CTV, CBC, LIFE, Canadian Learning Television, Global TV, TNT, NY Times, USA Today, BFM France, NRJ, Canal+, Entertainment Tonight, Cosmopolitan, ELLE, Flare, and CNN. Lisa has also been invited to the celebrity brand suites during the Toronto International Film Festival, the Golden Globes, Oscars, and the Cannes Film Festival and her styles are frequently spotted on celebrities around the globe.